Royal Warrant: what does it mean?
We were delighted to learn that two of our key brand manufacturers have been awarded prestigious Royal Warrants this month.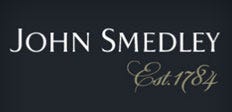 We are so pleased to be able to send our warmest congratulations to John Smedley Ltd. who were granted the honour of supplying Her Majesty Queen Elizabeth with fine knitwear, their first royal warrant in their 229 year history. In his announcement this month, Mr Ian Maclean, Managing Director of John Smedley Ltd. said, "Interestingly, the Royal Warrant document states specifically that we have been "appointed into the place and quality of Manufacturer of Fine Knitwear".  I emphasise the word quality, as I know that every one of our 390 employees has quality as a topmost priority and takes pride in every garment that passes through their hands." Well, we at Country Attire can confirm that statement without argument. John Smedley knitwear in cashmere, merino and Sea Island cotton must be touched and felt to be believed; the excellence of their garments is breath-taking and this award is, in our opinion, long overdue.
We are also elated to send our best wishes and compliments to equally famous knitwear manufacturer, Johnstons of Elgin, who were also granted the Warrant of Appointment from The Prince of Wales; also their first Royal Warrant in their 216 years of fine woollen weaving. James Sugden OBE, the official Grantee of Appointment for the prince, said, ""It is a privilege and a pleasure to work on commissions for His Royal Highness who, above all, understands and appreciates the importance of quality in manufacture, … a singular honour for the company." This award, although their first royal appointment, is by no means their first royal accolade as the company has repeatedly received The Queen's Award for Export over several decades. Their outstanding garments in cashmere and angora are superbly fashioned, colourful and stylish, and frankly without equal anywhere in the world.
But what are Royal Warrants of Appointment? Well, quite simply they are a mark of recognition of those who have supplied goods or services for at least five years to the Households of HM The Queen, HRH The Duke of Edinburgh or HRH The Prince of Wales. Royal Warrants have always been regarded as demonstrating service, quality and excellence, and are highly prized. There are around 800 Royal Warrant holders, representing a cross-section of British trade and industry, ranging from traditional craftspeople to global multinationals operating at the cutting edge of technology.
So we at Country Attire are immensely proud to be official stockists for both these amazing brands. We only specialise in the best of the best and John Smedley and Johnstons of Elgin are both without doubt the epitome of this rare category.
 While writing this article I thought I'd just check just how many Royal Warrants are held by the brand manufacturers we're privileged to stock. Would you believe 12! I was surprised once you actually add it all up, but this is our Royal Warrant count: Barbour -3, Johnston's -1, John Smedley -1, Ettinger -1, Hunter -2, Loake -1, Musto -2 and finally Wolsey -1. I guess Country Attire must be one of very few retailers to hold stocks of so many royally appointed companies' products. But well done to all of them; it's not easy to gain such royal approval and it's an important reassurance to all our customers that we only sell products of superlative quality.
Here is a small selection of John Smedley and Johnstons of Elgin knitwear we have in stock right now. Unfortunately online services however good can never give you the touch and feel of these fabulous woollens but, trust me, buy these and you will NOT be disappointed.
JUST

CLICK

ON ANY IMAGE TO SEE FULL DETAILS