This year on the 4th August 2017 the world's lager lovers and ale adorers are set to put aside their differences and join in the celebrations for International Beer Day. A relatively new occasion to take up residence on our calendars, after first beginning in 2008, International Beer Day has quickly leaped into the hearts of many, as a day in which friends catch up, partners go out and generations reminisce over an ice-cold beer.
To celebrate this day, Country Attire payed a visit to Robinsons Brewery: A family-run independent brewers who have been 'brewing perfection since 1838'. On the Robinsons brewery tour, we had the opportunity to learn all about the different stages of the production process within their factory.
However, our tour wasn't just about the creation of the beers which Robinsons outputs, as it also highlighted the historic brewer's proud heritage and strong ethos to innovate and expand with purpose and sophistication: all of which are values which Country Attire share.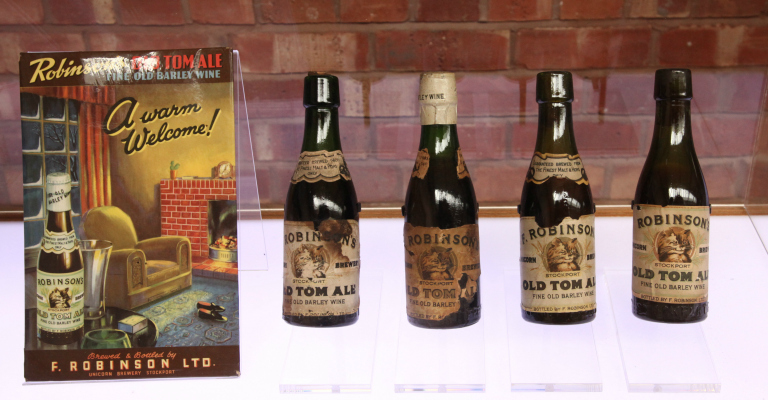 When we entered the Robinsons brewery, we weren't too sure what we would find. A historic building, which has stood atop the iconic Mersey Way shopping centre for well over 100 years, it wasn't long ago, before a recent renovation, that the sweet taste from their iconic brews could be smelt by passersby on their weekly shop.
However, this renovation wasn't done solely to conceal Robinsons production from the public, as in reality it was done for energy reservation purposes and serves as a hint at how under the time-trodden front of factory face, Robinsons have been ever expanding and updating their production facilities to ensure their process excels to every degree.
This isn't anything new for Robinsons though, as innovation seems to run deeply within their brand's ethos with examples of this stretching back to the early history of Robinsons, when they were the first company to hire a head of brewers who had obtained a degree in brewing.
To most companies this could mean losing touch of their roots, however, when it comes to Robinsons this couldn't be further from the truth. A fact, which was put in plain view when we entered the visitors centre this week, and were greeted by a sprawling timeline of the company's history.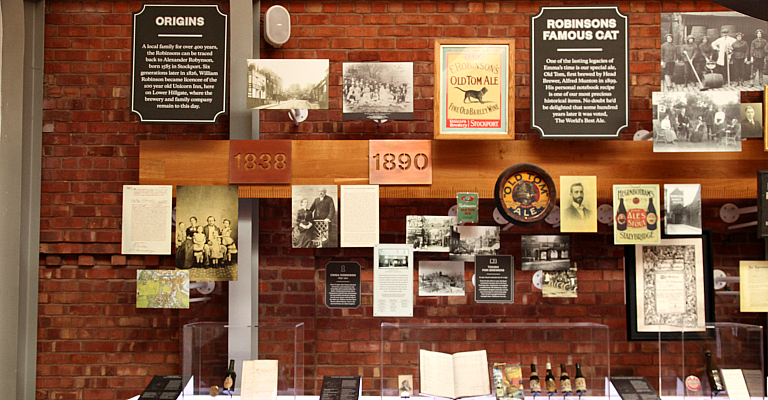 This timeline, which dated all the way back to 1838, depicted the long history of the family-run company and was complimented by various displayed items around the room (all of which are equally as interesting, and almost certainly as valuable). Our personal favourites of these antiques were: the recipe book which contained the original ingredients for the brewer's first beer, and the various adverts which have been published for the company over the course of their existence.
After a short wait, which supplied just enough time to study all the room had to offer, our tour guide was ready to take us through the inner workings of one of Britain's oldest brewers.
Here we learnt many things, such as how from the top floor of the building you can easily see the site of the first brewed Robinsons: The Unicorn Inn, as well as how Robinsons have been using the same yeast since 1942.
During this time, we also learn how when we say that Robinsons are proud of their roots this also applies literally: as their water is drawn directly from 600 feet under the facility (something which they believe helps give their beers their smooth texture).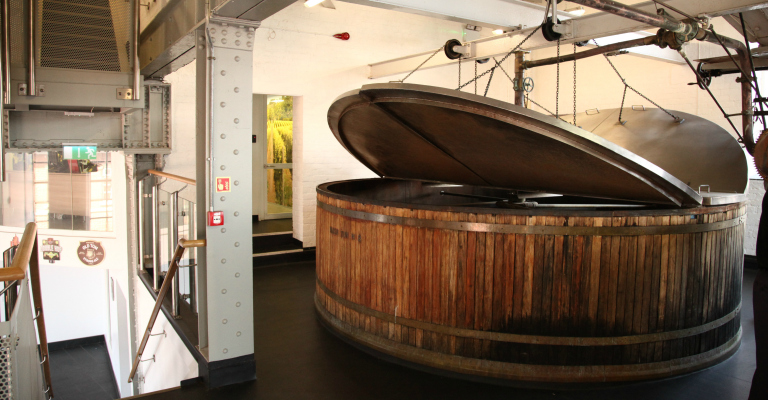 The tour lasted for roughly over an hour, however, from the amount of history that was on offer, it easy could have taken longer (though thanks to our tour guide Graham's friendly manner, and concise discussion, this never felt over-bearing).
That wasn't the end of our time at Robinsons however, as Robinsons also contains their own pub on the bottom floor: a place where all Robinsons beers can be purchased as well a few experimental flavours that the company may be trialling.
We chose to sample 3 that day:
– Dizzy Blonde: a crisp and refreshing golden ale.
– Robohop: a zesty and tangy blonde ale.
– Unicorn: Robinsons award winning light bitter beer.
And whilst all the  beers we tasted were great, we hope that if we return in the future we have time to try every single one (to ensure a fair test of course).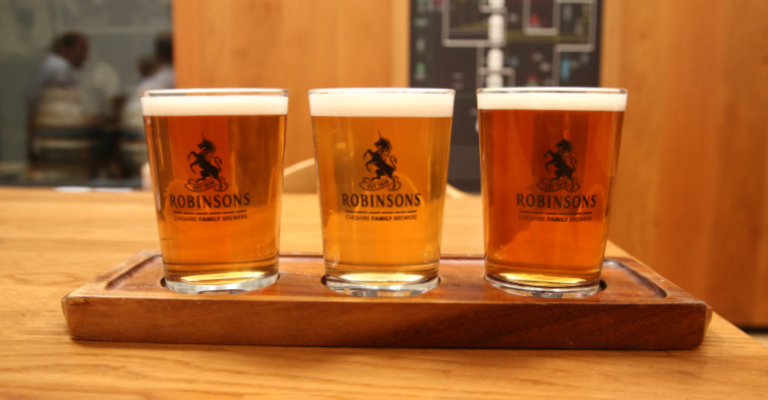 There is much more which can be discussed about our time at Robinsons Brewery, however, we believe that there are somethings which are better experienced in person. So make sure to check out the Robinsons factory if you are in the area.
We hope today's blog has given you a few ideas on how to spend International Beer Day this Friday. We would like to quickly express our gratitude to Robinsons for having us this week: we look forward to seeing what this prestigious brewer brings us in the future and we wish them and everyone else a great International Beer Day.