Master bootmakers since 1927, discover the story behind Le Chameau's iconic wellington boots and how these premium styles are made.
In 1927, Claude Chamot had set a goal to create the most comfortable and best-fitting rubber boots. The inspiration behind this idea was caused by the traditional men's boots of the time that were neither comfortable to wear all day nor very durable. Based in a small seaside village in Normandy, Chamot sought insights from local customers – farmers, hunters, and fishermen, all of whom wanted work boots that would be hardwearing and comfortable enough to be worn for long hours each day. Armed with this information, Chamot set to create a new style of boot entirely; a style that would withstand the rigours of both the countryside and the sea. 
This led to Chamot's pioneering design for vulcanised rubber wellington boots, which grew his reputation as a purveyor of well-crafted footwear. Establishing a factory in Casablanca in 1949, Chamot later changed his company name to Le Chameau, meaning "The Camel" as a nod to his Moroccan factory. Almost 100 years later, Le Chameau boots are still expertly handcrafted in this factory by maître bottiers to the highest possible quality and precision.
Le Chameau sets the standards for the production of wellington boots, with generations of maître bottiers working at the Casablanca factory. The maître bottier is a highly technical role, which requires a minimum of nine months of intensive training. At every stage of the manufacturing process, there is almost a century of heritage and expertise that goes into making every pair of Le Chameau boots.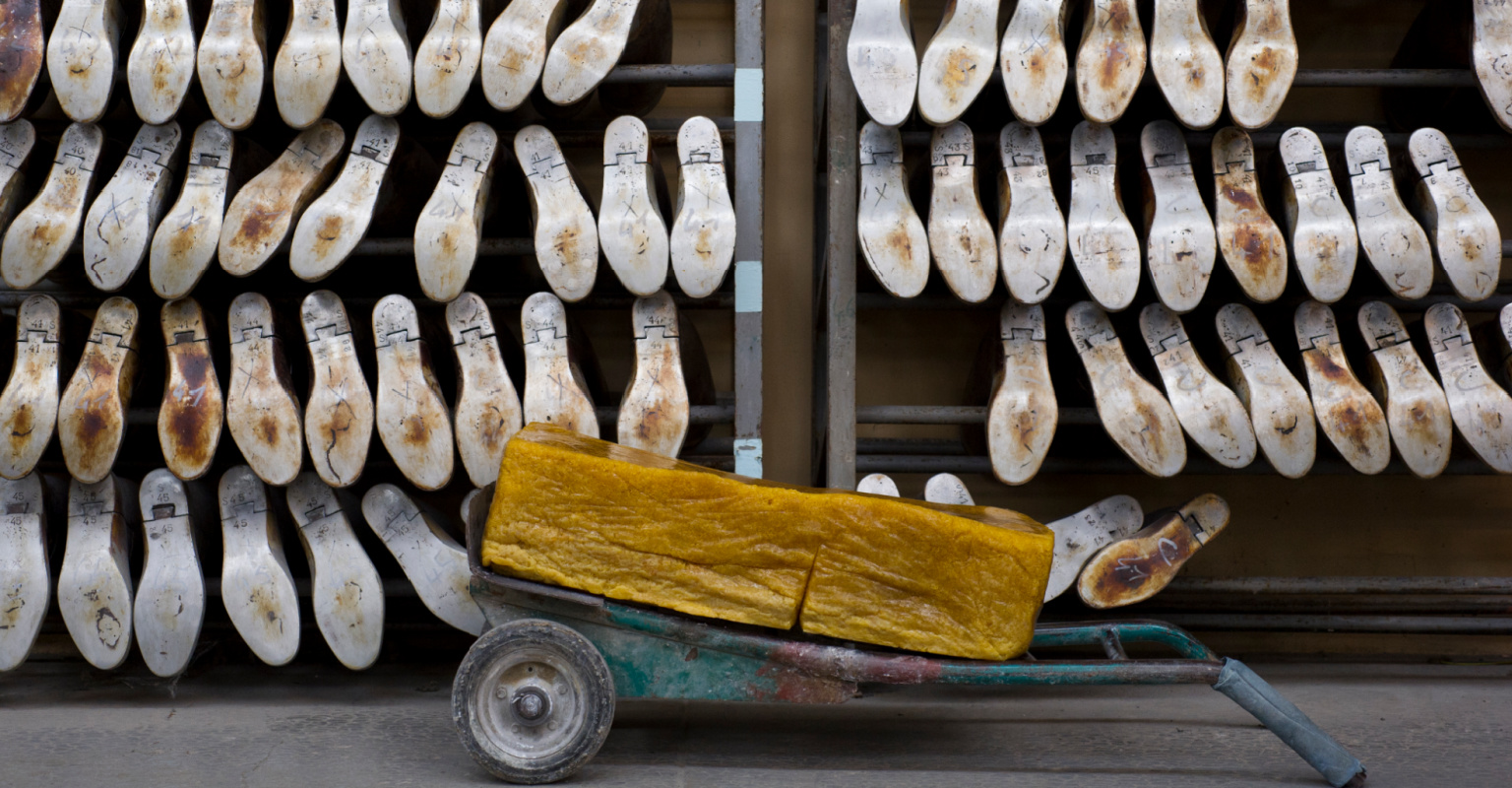 Like any well-crafted product, it is largely down to the quality of its' raw materials. Sourcing their rubber from an ethical and sustainable plantation in Vietnam, Le Chameau uses only the finest Grade A rubber, which is light in colour and contains low levels of impurities. The rubber is then blended with a few secret ingredients to produce the brand's famous Chamolux rubber – Chamot's original mix. Chamolux rubber is soft, supple and durable, providing the foundation of all of Le Chameau's boots.
Once the Chamolux rubber mix is ready, this is fed through a series of large metal rollers until a specific thickness is achieved. The optimum thickness of the rubber has to be thick enough to retain the high level of durability and strength, but thin enough to be manipulated during the boot-making process. A carefully crafted template is laid on top of the sheets of rubber and each part is cut to shape and trimmed by hand. 
Whilst the components are still flexible, the maître bottier can build the shape of the boot on an aluminium last. Layers of rubber are then built on top of each other using liquid latex, making the rubber more stable and durable. At this point, the boot can be adapted to one of Le Chameau's many iconic footwear silhouettes, with the option to reinforce crucial areas for added protection.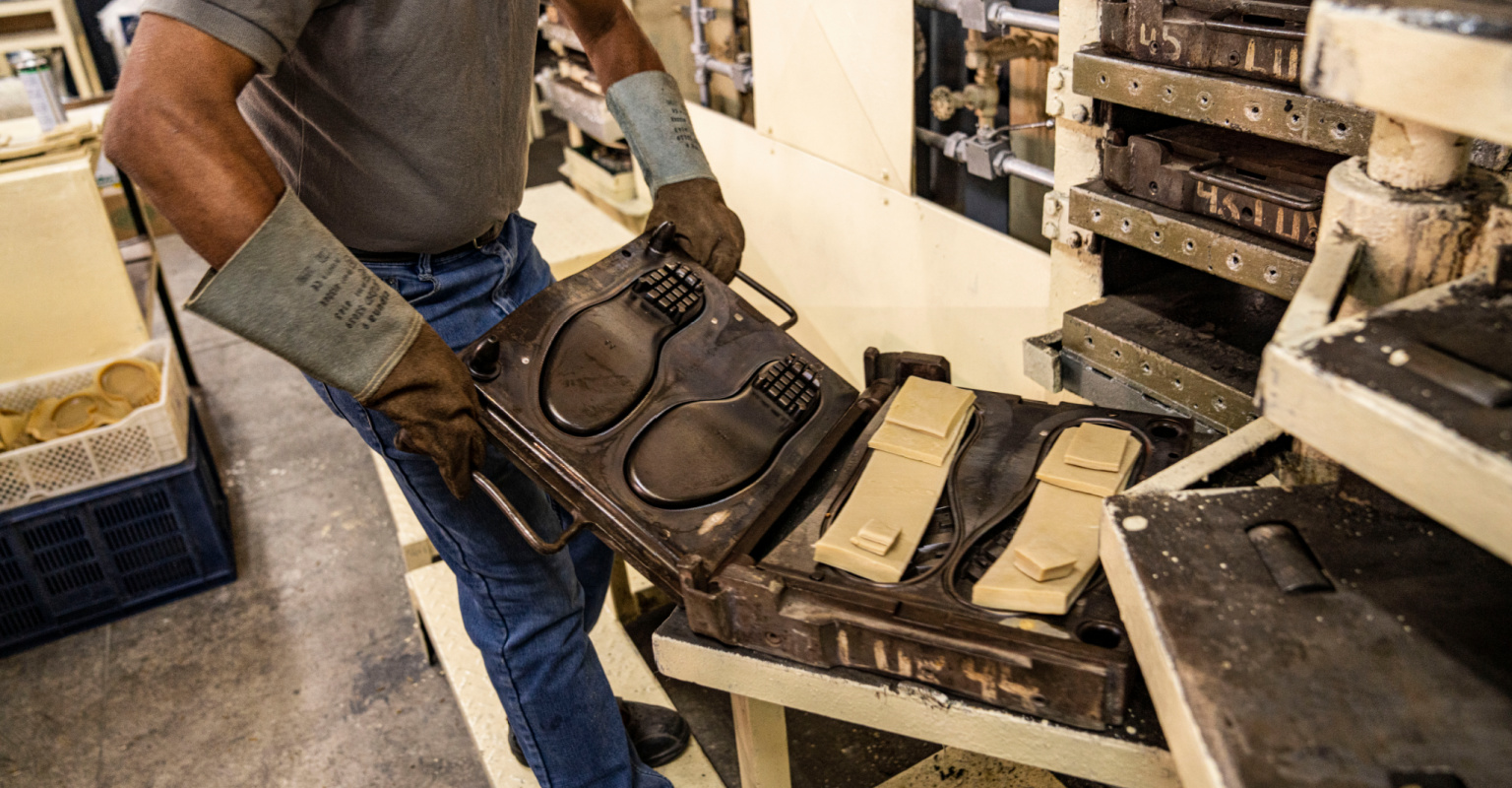 The base sole is made by adding the rubber into a mould and "cooked" under pressure. Depending on the silhouette chosen and its end use, different elements are added to the outsoles, such as shank reinforcements designed in partnership with tyre manufacturer Michelin. This specialist technology, seen in Le Chameau boots such as the Vierzonord and Chasseur, ensure the wearer's weight is distributed evenly for better stability and muscle support. Multi-directional soles also give a better, sure-footed grip on soft, uneven and slippery terrain.
The linings of all Le Chameau boots are prepared in a dedicated area of the factory where the pattern pieces are cut to size and constructed to form the boot shape. Depending on the style of boot, there are several lining options. Winter styles such as the Chasseur and Vierzonord boots feature insulating, comfortable linings crafted from lightweight neoprene or natural wool, whilst premium styles such as the original Saint Hubert boots boast a supple leather lining. Everyday styles such as the Iris and Giverny feature a lightweight jersey lining for added comfort.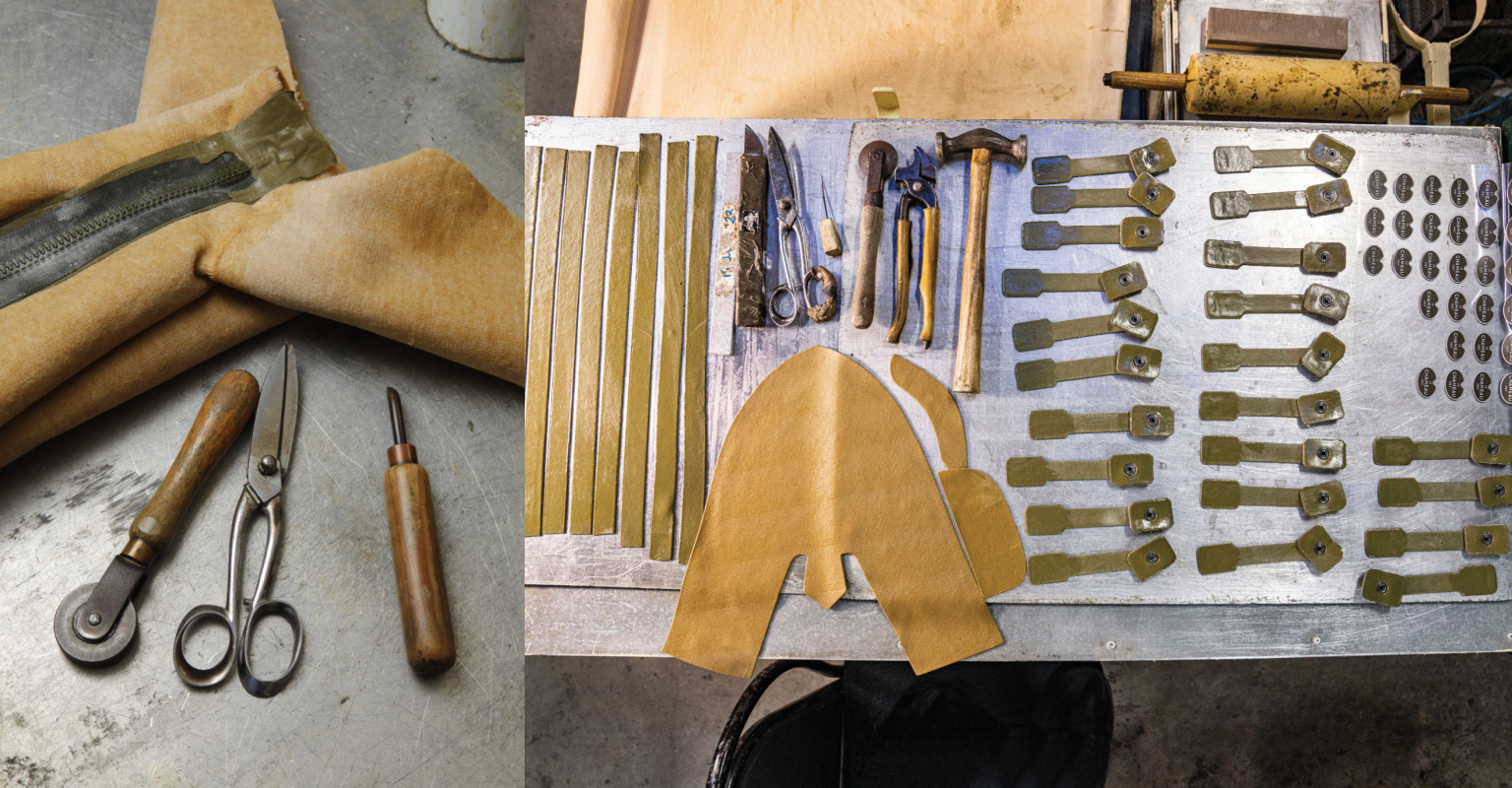 Now the uppers, linings, and soles have been individually constructed the maître bottier can begin the process of putting everything together. The uppers and linings are bonded together and any hardware components such as zips, buckles, gussets and badges are added if required, followed by the outsoles using a special liquid latex and secured into place.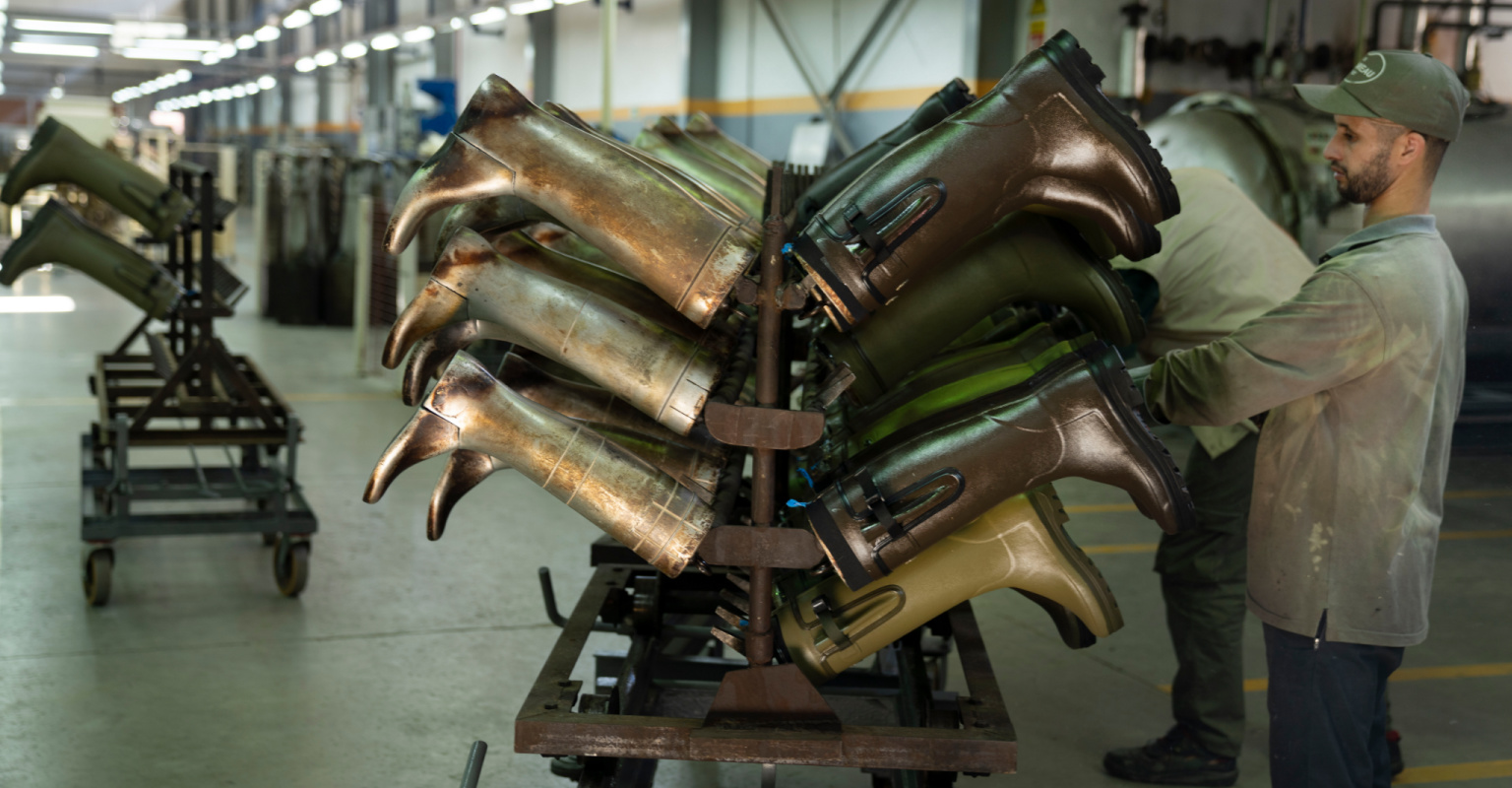 Once the boot assembly is complete by the maître bottier, the boots are essentially 'cooked' to stabilise and strengthen the rubber and ensure everything is fused properly. Once cooled, the aluminium lasts are removed, and the boots undertake a final quality control check. To check each pair of boots are fully waterproof, they are placed into a water bath to check for any leaks. Once approved, the final finishing touches are carried out to ensure every pair of Le Chameau boots arrive with customers in the best possible condition, ready to be enjoyed in the outdoors for many years to come.